Dyno Dynamics 4WD Dynotech Rolling Road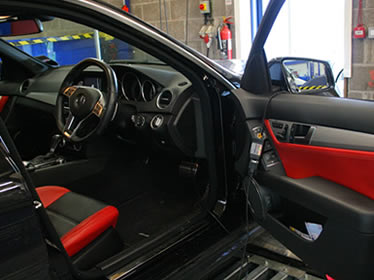 Our 2013 Dynotech 4WD Rolling Road is the latest dynomometer from Dyno Dynamics, the world leader in rolling road technology. The rolling road is housed in a custom built dyno cell featuring external air cooling and exhaust gas extraction.
Highlights of this class leading system include:
Max power of 450KW per dyno bed
Computer controlled moveable bed system - caters for wheels bases from 2.32m to 3.5m
Electronic load cell force measurement system- measure changes in both torque and power to generate the most accurate graphing possible
Our dyno also features the 2013 Weather Station which calibrates the dyno for every run ensuring the figures produced are accurate regardless of atmospheric conditions - the same vehicle run on a hot summer day will produce the same figures if it were run on a cold winter day.
The Dyno Dynamics system stores all data for each run allowing you to compare previous figures following tuning or adjustments and generate additional charts showing different readings from past runs.
Tuning
One of the primary purposes of the rolling road is to aid tuning of vehicles for fast road and motorsport use. We are familiar with many common ECUs including GEMS, DTA and Omex and have tuned high power vehicles that run in high profile events such as Time Attack and that have been magazine featured
Costs
2WD Power Run £50+ VAT for 3 pulls
4WD Power Run £70+ VAT for 3 pulls
Diagnostics from £80+ VAT per hour
Rolling Road / Club Dyno Days
Our Rolling Road is available to book for Rolling Road Days with prices starting at £35 per car. This is open to Clubs or a group of friends who want to power test their vehicles and enjoy a good day out.
Each vehicle will get 3 power runs and printed chart showing your choice of readings; AFR, Boost, Torque etc.
We can handle a maximum of 35 vehicles at each event and require a minimum of 10 vehicles per event.
Diagnostics
The rolling road is a useful tool and can be used to aid diagnositcs allowing us to simulate many road conditions without leaving the workshop.
How to book
Simply contact us to discuss your requirements and book your vehicle in. We require around 1 days notice for a single vehicle and around 1 months notice to arrange a Club Dyno Day.
Note: all vehicles must be mechanically fit to run on the dyno, we reserve the right to refuse to run any vehicle we believe would be unsafe.