Welcome to Moorfield Motor Services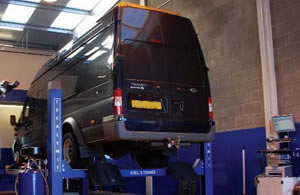 As a private business, we are pleased to offer the very best value and service. Our technicians are fully trained and our workshop features the latest equipment for MOT testing, 4 wheel alignment and diagnostic fault finding. We even carry out Digital Mileage Correction for main dealers who do not have the necessary equipment.
General and New Car Servicing and Repairs
Recent changes in the law allow you to have your new car serviced by us without affecting your manufacturer's warranty. Our quality workmanship means you receive the same level of service as provided by a main dealer at much more competitive rate.
ECU Remapping
We can remap your ECU to increase performance either with a standard off-the-shelf map or a custom remap created for your exact requirements. ECU Remaps can increase performance by releasing BHP and torque from the manufacturer's conservative factory map which result in lower 0-60 times.
4WD Dynotech Rolling Road
Our 2013 Dynotech 4WD Rolling Road is the latest dynomometer from Dyno Dynamics, the world leader in rolling road technology. Housed in a custom built dyno cell featuring external air cooling and exhaust gas extraction it is available for:
Digital Mileage Correction
Digital Mileage Correction can be neccessary where the mileage reading on your odometer has changed from the true value. This can happen when a car is jump started or when there is a fault with the ECU.
Mobile Services
We now offer Mobile Digital Mileage Correction and Mobile ECU Remapping.