MOT Testing, Kilmarnock, Ayrshire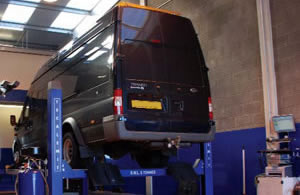 Moorfield Motor Services are an approved by the Vehicle Operator Services Agency (VOSA) and all MOT tests we carry out are completed by MOT testers authorised by VOSA. With our trained technicians and the latest equipment for diagnostic fault finding, why go anywhere else?
MOT Class 4, Class 7 and Class 5L
Our fully equipped workshop allows us to carry out MOT testing on cars, minibuses, large vans and motor homes. The high roof means we can work on large and high top vehciles with no problem.
Class 4 (Cars up to 8 seats, Motor Caravans, Dual Purpose Vehicles, Goods Vehicles up to 3000kg DGW, Ambulances and Taxis, Private Passenger Vehicles 9-12 seats)
Class 7 (Goods Vehicles over 3000kg up to 3500kg DGW)
Class 5L (Private Passenger Vehicles and Ambulances 13-16 seats
Trade enquiries
We welcome Trade enquiries for our MOT services.
Car needing serviced?
If your car is due a service why not take the opportunity while your car is in for it's MOT? Find out more about General Servicing and Repairs.