ECU Remapping and ECU Remap
ECU remapping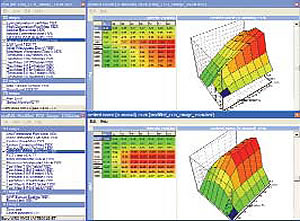 When we carry out an ECU Remap we are fine tuning the map on chip that controls the performance of your engine. Manufactures must allow for customers who do not look after their vehicle with regular servicing and so can set the ECU map very conservatively.
Why is ECU remapping so effective?
Car manufacturers often produce several versions of a particular model of car and it is common for each version to share components such as fuel pump and injectors. In such cases it is simply the ECU Map that allows the more expensive models to have better performance including increased torque and better 0-60 times.
How do we do this?
ECU remapping is usually carried out through your car's on board diagnostic socket (OBD2) which means there are no new components required or visible evidence of the work having been carried out.
Our experienced technicians use the latest specialist equipment to optimise the map stored on your car's ECU EPROM chip that controls the ignition timing, fueling and boost (turbo cars).
Along with improving power and torque many drivability issues including flat spots at lower revs and hesitation are removed making your car more responsive and more enjoyable to drive.
Main benefits of an ECU remap
Increased throttle response
Increased torque
Better driveability
Improved fuel economy
No compromise on reliability
How much extra power will I get?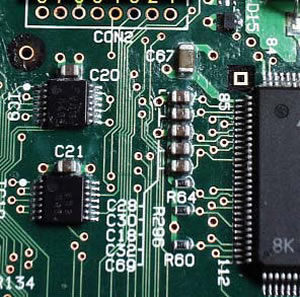 Call 01563 537 145 or email [email protected] with details of your car and we can advise what can be done for your particular vehicle.
Diesel remap
Diesel cars, espicially turbo diesel cars achieve some of the best improvements from an ECU Remap. Remapping a diesel turbo engine ECU can produce a 30-40% increase in BHP and up to 60% increase in torque depending on the type of car.
Why is ECU remapping better than a diesel tuning box?
ECU remapping is much safer than using a diesel tuning box which simply tricks your ECU into supplying more fuel to the engine. This can lead to problems including excessive wear on components, black smoke from the exhaust and engine check lights being activated. Compare this to our ECU remap service which adjusts targeted areas of your car's original ECU map.
ECU Remap for Tractors and Trucks
ECU Remaps are not just for cars and vans. You can get the same benefits by remapping your tractor or truck.
Mobile ECU Remapping
To save you some time and hassle we offer mobile ecu remapping so our technicians will come to you. Please call for further details.
Post us your ECU
Since most ECU Remaps are carried out directly to the ECU we provide a mail order service. Simply call to arrange your job, post us your ECU and we will remap and post it back the day we receive it.
ECU remap costs
The price for an ECU Remap starts at £200 + VAT.
Call now
For a BMW remap or Alfa remap, Skoda remap or VW remap you will be pleased to hear how easy it is for us to cater for your needs. Call us now on 01563 537 145.